Top 10 High paying Part time jobs in the UK for Students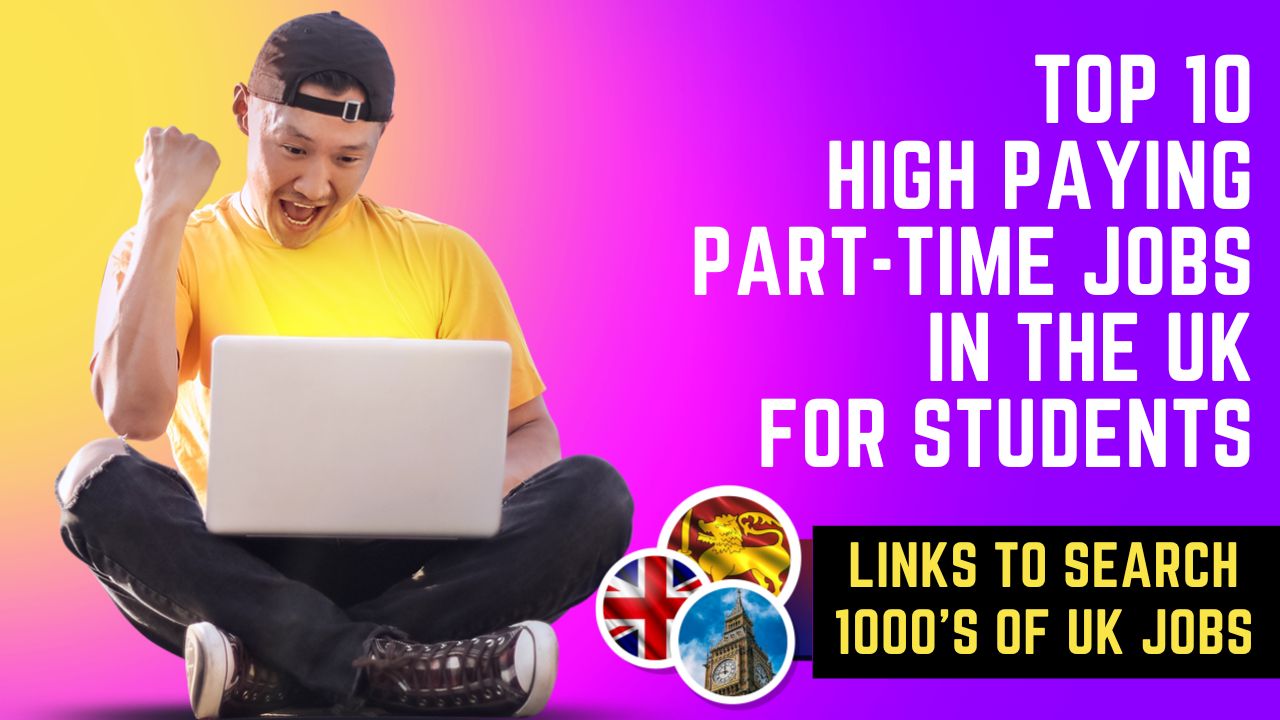 Being a student usually means little or no money, but when you're working part time, you no longer have to worry about being able to afford the basic essentials – or relying on your parents or student funding to get by.
Can international students work part time in the UK?
Full-time students on student visas and studying a level 6 qualification (equivalent to a bachelors degree, a graduate diploma or PGCE) can work up to 20 hours a week during term time. You can only work full time in university vacations or if your course involves a work placement. Your work must be temporary, not permanent, and you can't set up your own business or be self employed. Please check with your university's advice service for more information.
What work am I allowed to do on a Student visa?
You will be subject to a maximum number of hours per week for working during term time. The term-time period can change depending on the programme you are studying so you must ensure that you are aware of the term time and vacation periods for your specific programme. A working 'week' is defined as a 7-day period starting on a Monday and ending on the following Sunday.
As a Student or Tier 4 Student visa holder you can only work if you are considered an 'employee'. Your Student or Tier 4 visa will allow you to work:
What's the national minimum wage for students?
National minimum wage from April 2022: Workers aged 23 and over: £9.50, Workers aged 21 to 22: £9.18, Workers aged 18 to 20: £6.83, Workers under 18: £4.81
Watch - Top 10 High paying Part time jobs in UK for Students - Your Knowledge Buddy
---
Are you a people person? If so, working as a server could be the job for you. Whether you work in a restaurant on-campus or in a traditional British pub, serving jobs are almost always plentiful across the UK. If English is your second language, you'll also get to practice your speaking and listening skills in a fast-paced environment - which is a big plus.
Lots of international students get a part-time job to help cover their living expenses. You can start affording little luxuries like going out with friends and treating yourself to something nice. You can even set your paycheque aside and put it towards your tuition fees.But how much can you earn per hour?
20 hours in any given week during term time if you are studying a full-time programme at degree level and above
10 hours in any given week during term time if you are studying a full-time programme below degree level
Full time during vacation periods and after your official course end date
On a work placement, which must be an integral and assessed part of your programme of studies
---
Watch - How to get Part Time Job in UK for International Students - Sinhala - SL Sisters Show
---
Some populaer UK part time job search websites.
1000's of current vacancies.

uk.indeed.com - Indeed is an American worldwide employment website :

---

Gumtree, is a British-based online classified advertisement website :

---

Reed is one of the UK's leading careers marketplaces :

---

Totaljobs Listed over 15,940 Part Time jobs :

---

Student Job focus on connecting employers to the best candidates :

Watch - Best Part Time Jobs with Salary - Absolutely Ashika
---