Fashion Photography by Arantha Sirimanne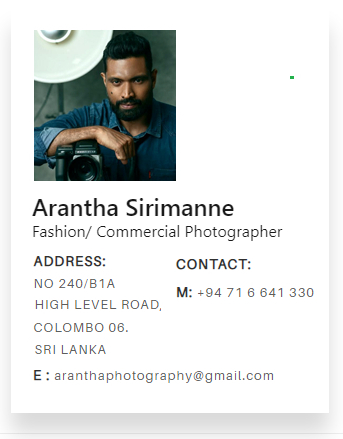 Recognized as one of Asia's most coveted Fashion Photographers. Arantha Sirimanne's photographs have created iconic portraits in Fashion Editorial globally and is currently one of the highest demanded photographers in the region.The Sri Lankan-born photographer took to photography at a young age. A self-taught photographer who immersed himself in a world of light and objects and constant experimentation. A trait that he holds deeply to be the key to his creative success today and his drive for creating extraordinary pieces of art.
"Taking photographs is easy, creating exciting engaging moments requires a high definition of understanding and practice" says Arantha. His creative vocabulary had enabled him to take Sri Lankan Fashion photography by storm. Taking beautiful photographs that not only created benchmarks in Fashion Editorial but enabled Arantha to become the Exclusive Photographer for Miss Sri Lanka for Miss world In 2011 and again 2012.
A title that Propelled him into the international fashion editorial arena which he took on with laden enthusiasm and anticipation. Shooting for Fashion Television and a myriad of international agencies. His ability to create excitement in his pieces were easily distinguishable and remain timestamps of his creative effort