Sri Lankan Cultural Dance show at Rudolph Steiner Theatre in London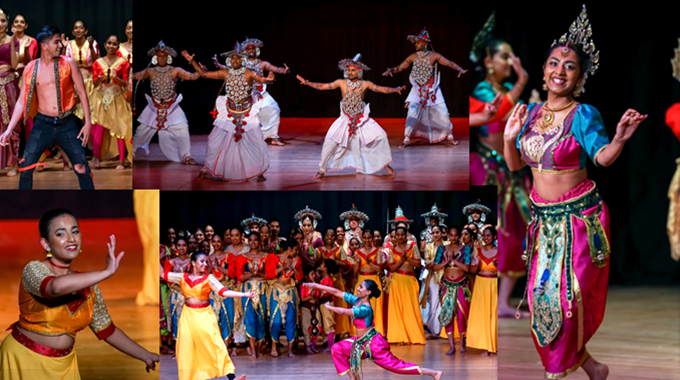 'Kandyan Dancers' is the only social media platform aiming to connect all Sri Lankan dancers on a global scale!. They showcased its first ever Sri Lankan Cultural Dance show at Rudolph Steiner Theatre in London. The show was directed by Dilini Seneviratne
The show was well attended with guests including Chief guest Miss Kumudu Perera with Miss Ashmi Perera, Mrs Priyanthi Perera with Mr Charith Seneviratne, Mrs Dilanee Bunter with Mr John Bunter [Ocean Stars Trust], Mr Thushara Madurasinghe [Association of Professional Sri Lankans], Gold Sponsor Kavindi Wickramaarachchi [ResinLuxe], Silver Sponsors Mrs Sylvia Perera [Colombo Kitchen], Mr Shantha Saram [Kevin Refigeration] and Mrs Nileeka Bose [Bollywood Co].
Narthana 2022 showcased Sri Lanka's most traditional dance forms including Kandyan, Ves, Pahatharata, Folk and South Asian dance Bharatanatyam as well as a medley of Sinhala songs paying tribute to Sri Lankan music.
The show hosted by Dr Jay Dave walked through the audience between each act, explaining the dance forms in great detail.
The show opened its stage to a total of 57 performers based in different corners around the U.K. as well as collaborating internationally with Ceylon Dancers based in Paris, France.
The show was also able to donate to Ocean Stars Trust, a U.K. based charity that exists to empower children through education and community development.
The show director Dilini Seneviratne thanked the guests, sponsors, volunteers and the performers on stage in an emotional closing speech:
"We, here, love to dance. There's a kind of quiet, daring confidence that comes with classical dancing - and every performer that you've seen tonight knows the kind of pride it lets you carry with you every day. Dancing is a way of life. It connects us to some deep part of ourselves, that we don't know how to express in any other way. Narthana exists because we love to dance, and because we love our fellow dancers. Narthana exists because there is nothing in the world that makes us happier than taking an ancient art form from a small, distant and beautiful part of the world, and elevating it to a contemporary global stage."
The show was supported by small enterprises – independent restaurants, boutique retailers and family businesses including Gold Sponsors: ResinLuxe and MNL Facilities Cleaning Services, Silver Sponsors: Colombo Kitchen, Nutein, PHS Consulting and Kevin Refrigeration and Bronze Sponsor: Made in Sari.
Acts coordinator and choreographer: Dilini Seneviratne
Bharatanatyam choreographer: Nisali Sisirakumara
Pure Kandyan and Suraba Fusion dance instructor: Sathyangi Fernando
Ves Finale choreographers: Sadun De Silva and Shashi Bandara